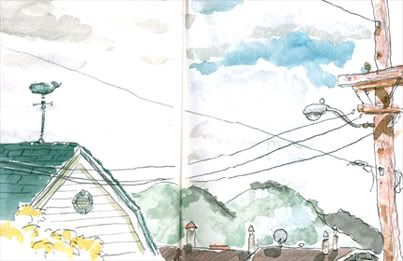 The first sketch of the afternoon took place down the hill on Fillmore. The view was perfect but there was just so much to sketch. I wish I could've included the Golden Gate Bridge in the background, but the weathered whale compass on the roof and the tangled wires on the telephone poles really caught my attention.
So we crossed Lombard and headed over to the Palace of Fine Arts, where the architecture is absolutely amazing! (Refer to older sketch in previous entry).
I stumbled across a couple of swans towards the entrance of the Museum. This swan was gathering twigs and branches while the other guarded the newly developed nest from all spectators. I've always heard stories of swans being very territorial and will attack when provoked. So staying on the opposite side of those pillars was quite comforting.
Ronnie's
group gathered and decided to walk onto Chestnut for lunch break. Most of the sketchcrawlers stopped at the Grove to eat, but
Emil
and I chose to grab a slice at one of the pizza parlors. The price was right and the portions were generous. When they say "Monster Slice", they mean it!
I gave
Enrico
a call to see where his group was located. Come to find out, his group did the complete opposite...ate first then headed to the Palace of Fine Arts. So his group just started sketching by the Museum. Emil and I decided to head back to the Palace of Fine Arts to crank out a few more sketches of people.
Here's a father preparing some cheese and crackers for his daughter.

Here's Larry.

We decided to pack up and meet at the final gathering spot in Japantown. Thanks to Ronnie's navigation, we avoided some of the steepest parts of the hill and made it around 4:30pm. We exchanged sketchbooks, contact info, and visited the popular
Kinokuniya Bookstore
.
I had a chance to chat with Ronnie afterwards and asked him about some tips on appoaching a sketch with watercolor. He used his Fabriano sketchbook to explain steps and examples (
this particular sketchbook was filled with fantastic illustrations from his previous trip to Japan
). Thanks Ronnie!
That's a wrap for SC#9. I has some great conversations with
Amelia
,
Kevin
,
John
, and
Emil
. It was good to see
Alex Woo
make it out today, Congrats on your new job!!! It was also good to finally meet
BigA
, you were a sketching machine!
Just before heading home, I headed back up Fillmore and sketched one more building before it got dark. I tried to apply everything Ronnie pointed out and I noticed that I'll need to work with a smaller brush and with a lot more patience. Hoping to improve on better control, better details and for many more experimentations in the months to come.