I have to commend everyone that contributed to making Sketchcrawl a world-wide success last weekend. I can't imagine coordinating a sketchcrawl event on my own. So I offered
Enrico
some help by putting together a map with an agenda, ferry schedule, contact numbers, and landmarks. I figured the coffee landmarks may come in handy since I'm always looking for some caffine halfway through the day.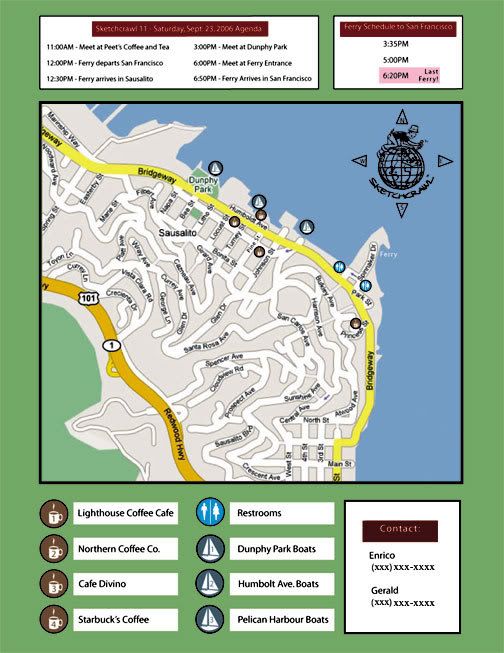 12:30PM
- I got to the Sausalito Ferry terminal on time, but looks like a few people have gotten there just a bit earlier. Two of them were animators from the Acadamy of Arts and two of them happened to be
Vern (aka:2danimator)
and
Don Kilpatrick
. I remember running into Vern's blog and reading about a sketch group he's part of...So I invited him to join us for Sketchcrawl 9. I still recall Enrico mentioning that a Vern fellow was there looking for me...but I just couldn't find him. So two sketchcrawls later, I finally meet the guy.
12:40PM
- The "Sonoma" Ferry just docked, but I was just kidding when I said that every one of those people walking off the ferry was here for Sketchcrawl, because it sure felt like it...with a record setting attendance of 88+ participants.
We were all on our way so I started handing the maps out like hot-cakes. I though I had printed out too many maps, but looks like it was just enough.
12:50PM
- The pack of crawler found the fountain with no problem. There were people sitting against, on the edge, and in front of the fountain sketching away. So I started off with a sketch of
Oliver
. He had this huge watercolor travel palette with a velcro film canister to hold his water.
1:20PM
- There were these set of elephants at the entrance of the fountain that read "Plaza Vina del Mar". I spent a good amount of time sketching this one...but my brush pen felt like it was running out. Argggg!
2:00PM
- I proceeded to the area near the water, that looks towards the city....and found a handul of sketchcrawlers sketching away. All the shaded areas were taken, so I just found a spot at the bottom of the stairs. I saw this interesting post with a seagull on top, not realizing later...that everyone else drew the same thing. Hahaha. It's nice to see everyone's approach to the same object.
I filled the top of the page with a couple of boats in front of Angel Island and found this huge boat near the Yacht Harbor.
If you remember seeing the
sidewalk entertainer with a parrot
...there was a framed glove with the signature of Marcel Marceau. Not sure why that caught my attention?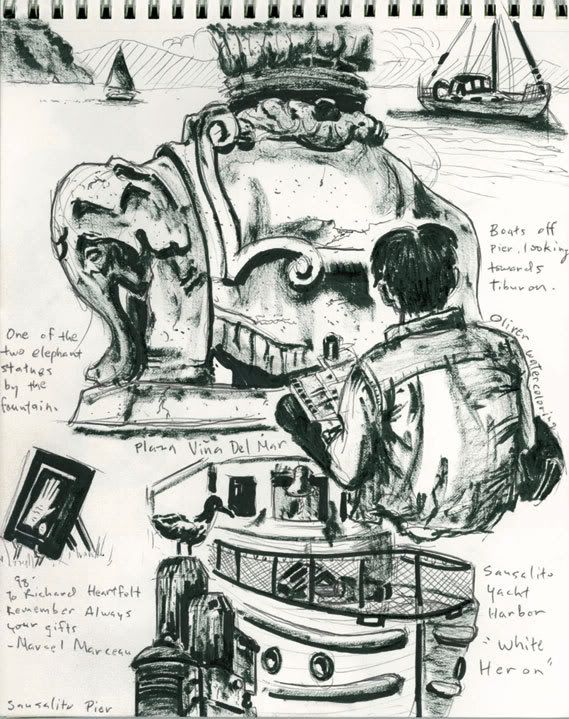 3:00PM
- Here's Enrico sketching other crawlers.
Check out his watercolor skills.
3:30PM
- I wanted to draw these group of people on
segways
, but I was craving for an iced espresso. So I stopped by
Cafe Trieste
and drew a potted flower instead.
4:00PM
- Everyone was scattered by this time, so I decided to explore the boats off Humbolt Ave. Instead, I came across this awesome camouflage jeep. I started laying down the colors and this guy walked up to me asking if I knew anything about this jeep? Of course, I say "no". So he totally schooled me and mentioned that it belonged to one of the boat owners behind us. It was a replica of a 1950's German Jeep. I was surprised the darn thing still runs? It looked like prop that belongs on the backlot of Universal Studios.
4:30PM
- I catch up with everyone at Dunphy Park and run into
John Hoffman
. We chat for a bit and exchange sketchbooks.
5:15PM
- I head back to the Ferry Terminal to see if anyone is catching the last ferry back into San Francisco. I don't see anyone so I decide to sqeeze in one more sketch for the day. I find a set of stairs facing the ferry, but this seagull on a rock catches my attention.
5:40PM
- I recognized
Kevin (aka:Funky Bat)
jumping in line with 3 other sketchcrawlers. I stop on by to chat and exchange sketchbooks. Our conversation was cut short because the ferry started boarding.
6:00PM
- I run into a couple of crawlers that actually met us here in Sausalito. Kelly works here, but
Jim
drove up all the way from Los Angeles. They got a late start, but glad they could make it out.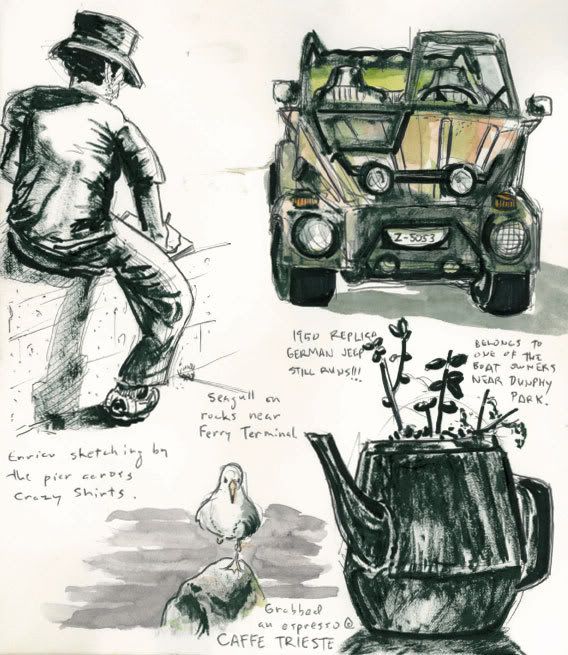 I met soooo many people on Saturday, but I forgot most of your names, so please drop me an email or leave a comment. I'd like to see your sketches for the day. Thanks for stopping by.