10:00AM - We arrived at the location and the heat was already getting to us. We checked in with the coordinator, recieved our chalks, slapped on the sun-block and hit the pavement.
Not sure how these cracks on the asphalt will affect the mural?

I was very glad Olivia offered to assist me on the mural. With this record setting heat wave on the West Coast, I'm not sure how we managed to to get as far as we did on the first day.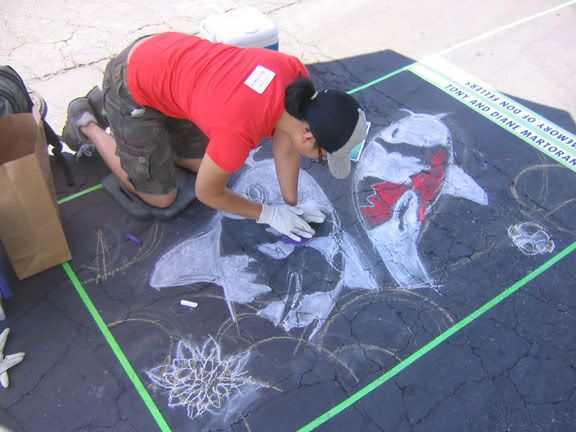 12:00pm - Lunch was kindly provided by the Festa Italiana Foundation - Thanks Julie!
3:00PM - The heat was at its' peak and we were feeling totally de-hydrated. We packed it up and headed anywhere we could find an ice cold mocha.
With 5 hours of work under our belts, we knew what we would be up against on Sunday. So we better get back here pretty early in the morning if we want to add the amount of detail we originally planned on doing for the lilly-pads.