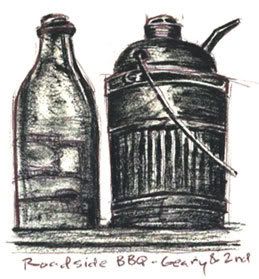 It's been a long time since I had some really good BBQ ribs. I tried a place near home and had a bad experience with some extremely dry ribs. I recently visited "
Roadside BBQ
". It's a cool little corner place off Geary and 2nd St. in San Francisco. The cole slaw was a bit spicy but the baby back ribs and corn bread were pretty good. I'll have to try their other brisket and ribs next time. Any recommendations for some good BBQ?
Above is a sketch of some old memorabilia on the back wall of "Roadside BBQ".
Just trying to get back into the groove of posting. Thanks to everyone that stopped by to check on recent posts. I appreciate all of your comments.